Welcome
Make note: Store will be closed Oct. 13-21st. Reopen on the 22nd!
Tuesday – Thursday 11 – 5
Friday 11 – 6
Saturday 11 – 5
Sundays and Mondays Closed
We will be at the TCA Train Meet at the York, PA Fairgrounds Oct. 17, 18, 19
Hello and welcome to Stockyard Express where the bull stays in the barn and the train rolls down the track! We are your number one place for O-Gauge trains especially if you collect models by MTH Electric Trains. Not only are we an authorized dealer for MTH we are also an MTH Authorized Service Center. Here on our website you can view our in stock lists of products from MTH, Lionel and Atlas O. You can also keep up with the latest news, trivia, and events going on in the railfan world.
Please note that we are 99.9% O-Gauge we do not carry any HO, N, Z, or G gauge products

We carry a full line of MTH RealTrax, MTH ScaleTrax, Lionel FasTrack, and Lionel Tubular Track!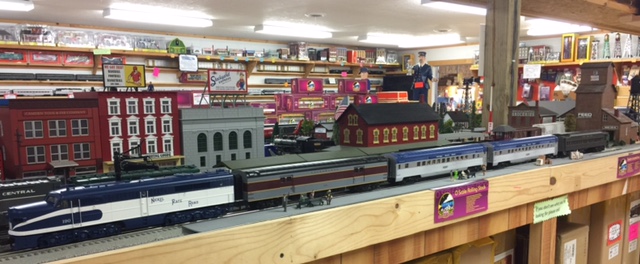 SET INCLUDES:
NICKEL PLATE ROAD ALCO PA ENGINE
LACKAWANNA BAGGAGE
2 NKP STREAMLINED COACHES
1 OBSERVATION CAR
EXTRA CARS AVAILABLE WILL BE:
CITY OF ST LOUIS STREAMLINED SLEEPER  $99.95
2 NKP SILVER HEAD END BOXCARS  $69.95 ea
12/22/16  Above Diesels are Available NOW!!!  $439.95 each

20-43003 US Army RPO        $99.95    –    Going fast, limited quantity available     –