Lionel Engine Inventory
MTH Z-4000 W/SHIPPER $625.00
Lionel 6-37921 ZW-L 620 Watt 4-Train Transformer EX/Box $899.99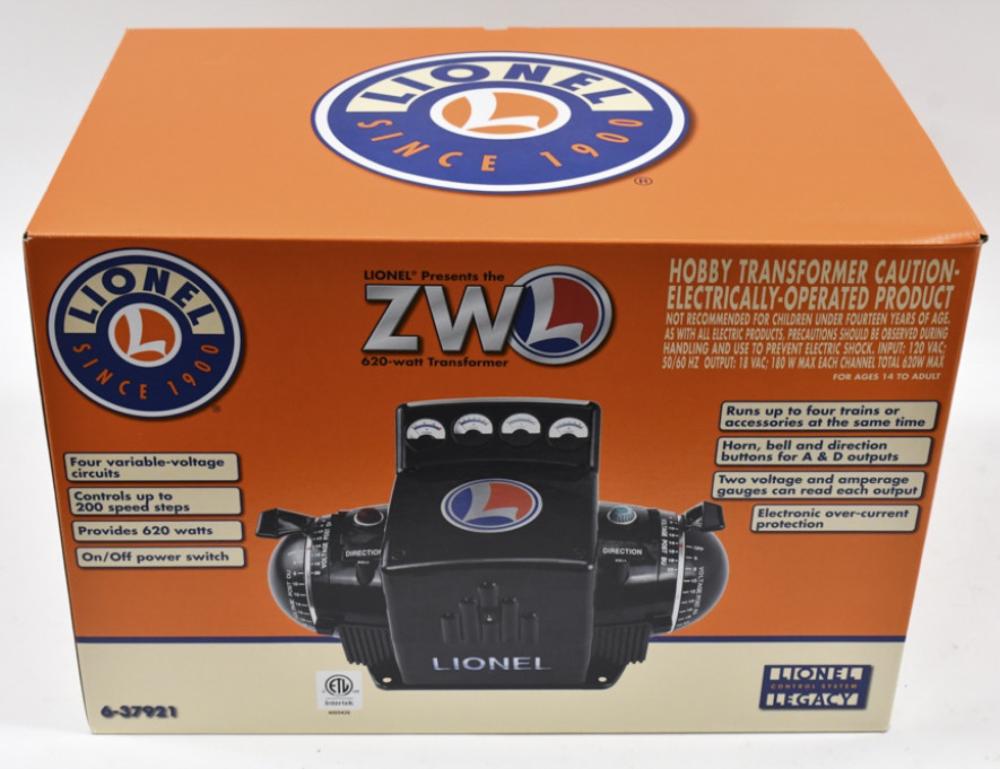 2231530 – Bethlehem O-6-O $699.99

2231480

– Norfolk & Western Vision Class A #1200 – Prototype – $1889.99


2231141 – Santa FE  LEGACY   2-10-4  #5011  $1499.99 York Special    2231142  – Santa Fe LEGACY 2-10-4      #5022  $1499.99 york special


The Santa Fe's mighty 5011-class 2-10-4s will make an imposing sight on any railroad. Delivered in 1944, these 25 locomotives were among the last new Santa Fe steam power. Capable of moving heavy tonnage at high speeds, these brutes were right at home on freight trains all across the vast AT&SF system. In 1956 the Pennsylvania leased 12 locomotives, including No. 5022, for service hauling coal from Columbus to Sandusky, Ohio alongside the Pennsylvania's J1 class 2-10-4s. We've presented a "what-if" Pennsylvania paint scheme here – exploring the possibility that the Pennsy decided to hang on to them a little longer. Also included in this release are two deco schemes based on the Kansas City Southern's similar locomotives. Available with LEGACY and Bluetooth control, these models have also been upgraded with Whistle Steam, 3 interchangeable stacks, and all of the other enhancements of Lionel electronics including a wireless drawbar and track IR. Don't miss this opportunity to add some of the biggest and best of the Santa Fe's super steam fleet to your operation.
LEGACY® Control System equipped – able to run in LEGACY® Control mode, in TrainMaster Command Control mode, or in Conventional mode with a standard transformer
Bluetooth® Control – Operate with Universal Remote or LionChief® App
Lionel Voice Control (LVC) – run your locomotive by speaking commands into your phone via LionChief® App
Odyssey® II Speed Control
IR Transmitter that works with LCS SensorTrack™
Powerful maintenance-free motor with momentum flywheel
Wireless Tether™ connection between locomotive and tender
ElectroCoupler™ on rear of tender
Directional lighting including operating headlight and back-up light on rear of tender
Bicolor illuminated classification lights on the front of locomotive where applicable. Using a Legacy controller, change the color of the classification lights between white or green
Traction tires
Interior illumination in cab
Die-cast metal locomotive body, pilot, and trucks
Die-cast metal tender body and trucks
High level of separately applied metal details
Separately applied builder's plate
Synchronized fan-driven smoke unit
Adjustable smoke output
Authentically detailed cab interior
Cab "glass" windows
Engineer and fireman figures
Whistle steam
3 position smokestack
LEGACY® RailSounds® sound system featuring:
CrewTalk™ dialog with different scenarios depending on whether the locomotive is in motion or stopped
TrainSounds that mimic operating dialog when the locomotive is in motion or stopped
Six official railroad speeds with CrewTalk dialog
DynaChuff™ synchronized with 32 levels of intensity as the locomotive gains speed
LEGACY® "Real-Time Quilling Whistle" control with instant response for realistic signature "quilling" and correctly timed warning signals – 5 different whistles to choose from for a more customized experience.
Single hit or continuous mechanical bell sounds – 5 levels of bell pitching for customized sounds
Sequence Control: plays the sound effects of an entire trip, including warning sounds and announcements, based on the movement and speed of the locomotive
Current speed and fuel dialog, coal or oil loading sound effects
PRODUCT SPECIFICATIONS
Rail Line: Santa Fe
Road Number: 5022
Gauge: O Gauge
Power: Electric
Engine Type: Steam
Min Curve: O72
Dimensions: Length: 30 1/2″
Most Recent Catalog: 2022 Big Book
2233629 – Canadian Pacific LEGACY SD90MAC #7022 Non Powered –$329.99
Modern muscle with a touch of class! The SD90MAC has long been a favorite with its larger-than-life size and power. Although most of these 1990s-era brutes have been retired, many have been rebuilt and are serving new owners. Undoubtedly the most special of these are the five dedicated by Canadian Pacific to veterans in both Canada and the United States. Painted in a variety of military-inspired liveries, these locomotives are a must-have for anyone collecting the commemorative units of the major railroads. Equally impressive are CP's Heritage locomotives as well as those of short line San Louis & Rio Grande – perfect power for your Ski Train! Despite their full-scale length, these locomotives will still navigate tight curves and offer plenty of power for your modern freights. Non-powered versions of the veterans units are also available for those building a representative roster on a budget!
No electronics are included in these non-powered units
PRODUCT SPECIFICATIONS
Rail Line: Canadian Pacific
Road Number: 7022
Gauge: O Gauge
Power: Electric
Engine Type: Diesel
Min Curve: O36
Dimensions: Length: 21 1/4"
Most Recent Catalog: 2022 Big Book
2333381 SP-SD 40T-2 $584.

2234060 – Amtrak LionChief Plus 2.0 Genesis #111 – $379.99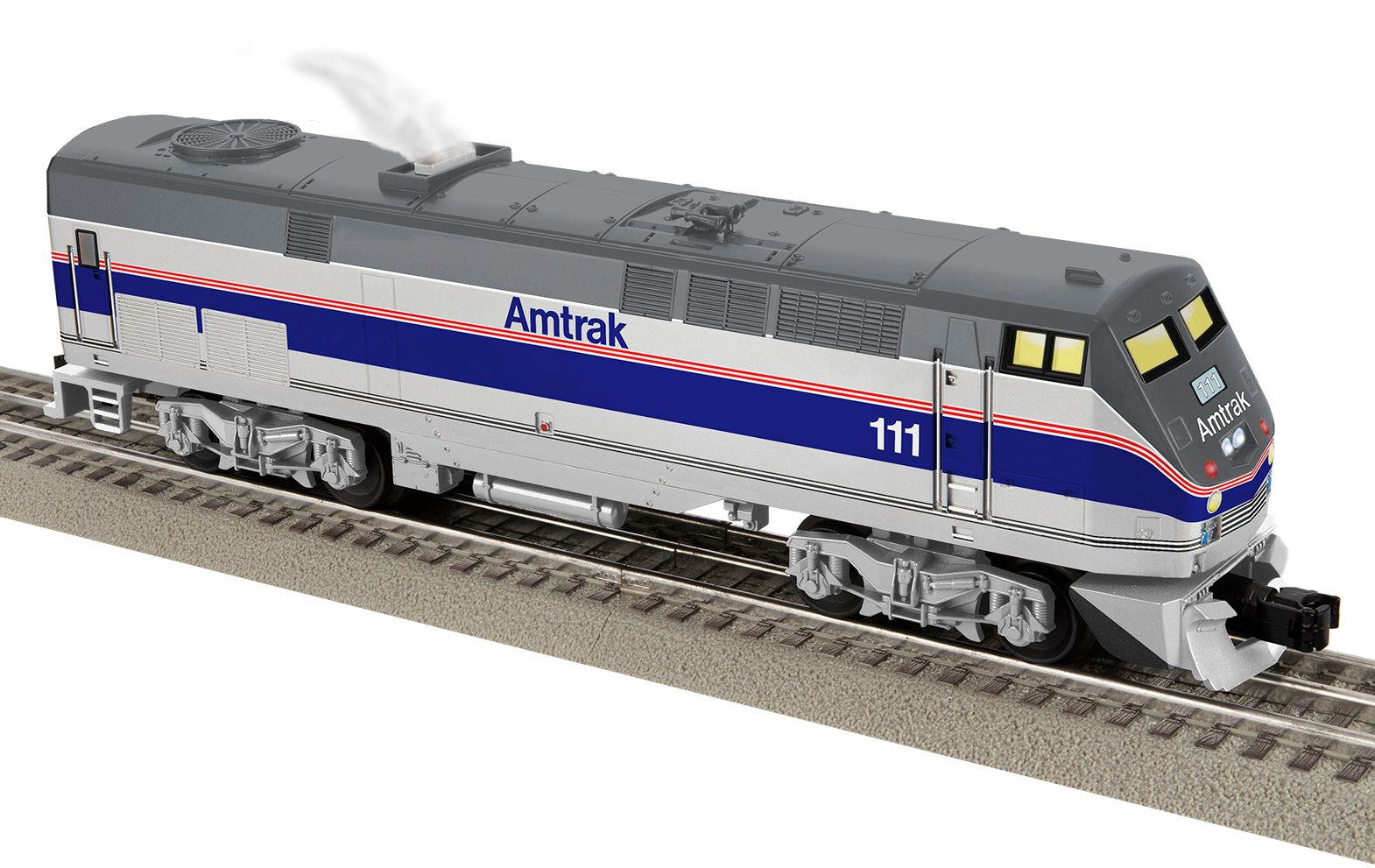 2232020 – Union Pacific LionChief Plus 2.0 Hudson #675 – List $649.99 Sale !!! $549.99
2233361 LIONEL RS-27 pen central $499.99 #2407 IN STOCK
2233362 LIONEL RS-27 pen central $499.99 #2409 IN STOCK
2233400 CONRAIL SW-1 BLUETOOTH $439.99 IN STOCK

2134030 B&O GP-7 #6698  LIONCHIEF PLUS 2.0  $299.99 IN STOCK

2134100 – Pennsylvania LionChief Plus 2.0 RS-3 #4044 – $299.99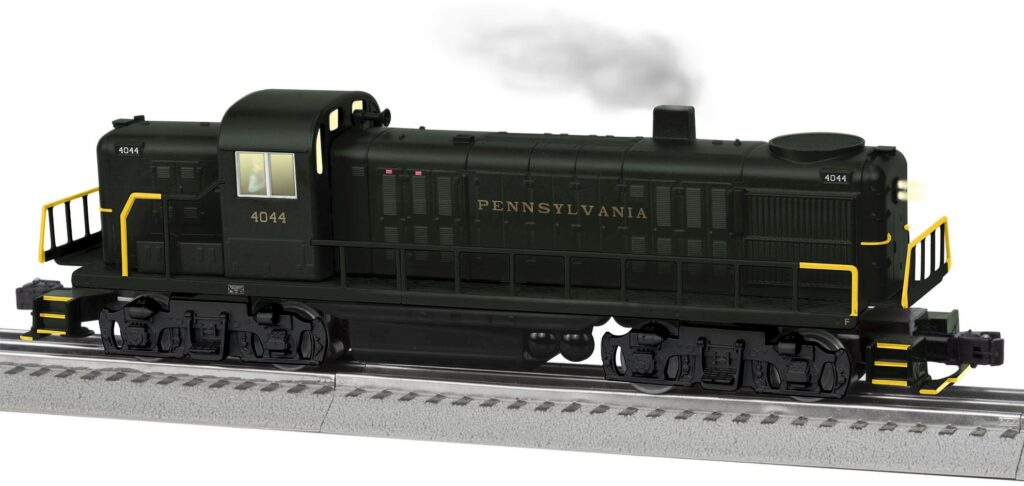 This Lionel classic is back and ready to rule your layout! Equipped with the innovative LionChief Plus 2.0 technology and offered in four popular road names, the RS-3 is a great addition to your engine line-up. These versatile workhorses, seen hauling freight as well as leading local passenger services in the 1950's, have graced many of the most iconic railways in North America.
LionChief Command equipped – Operate via Bluetooth using Universal Remote or LionChief App, OR via Command Control using TMCC or LEGACY Cab, OR via conventional transformer. Lash-up with similar LCC locomotives in Command Control.
Speed control
RailSounds® equipped – Diesel engine and background sounds, Horn, Bell, and Crewtalk / Towercom dialog
Lionel Voice Control (LVC) – run your locomotive by speaking commands into your phone via LionChief App
Fan-driven smoke
Dual ElectroCouplers ™
Dual powerful maintenance free motors
Die-cast trucks
Metal frame
Directional Headlights
Cab light
Crew figures
PRODUCT SPECIFICATIONS
Road Number: 4044
Gauge: O Gauge
Power: Electric
Engine Type: Diesel
Min Curve: O31
Dimensions: Length: 14.5″
Disney
2228220-mickey&friends chirstmas cab $79.99
2128350 mickey&friends chirstmas car $79.99
2128340 micky&friends chirstmas flat/ girders $74.99
Christmas
2128070 christmas present dump car $78.99
2228190 christmas 2021yr box car$44.99
2228150 christmas 2022yr box car $44.99
2228140 night befor christmas $94.99
2088300 christmas light express box $91.99
2029220 rosted chestnuts retreat $99.99
2129290 christmas water tower$49.99
angel trotta thomas 3 pk passerger set $199.99
MTH
30-75611 North Pole 4-Bay Coal Hopper – $49.95
Polar Express
1830010 Polar Express Snowman & People Figures – $24.99
1929060 Polar Express Station Platform – $46.95
1928430 Polar Expess Barrel Ramp Car – $69.99
2027800 Polar Express Skiing Hobo Observation Car – $74.99  BLACK ROOF
2028110 Polar Express Elf Bobbing Car – $68.99
2128210 Polar Express Flatcar w/Girders – $67.99
2028120  Polar Express Hot Chocolate Milk Car – $149.99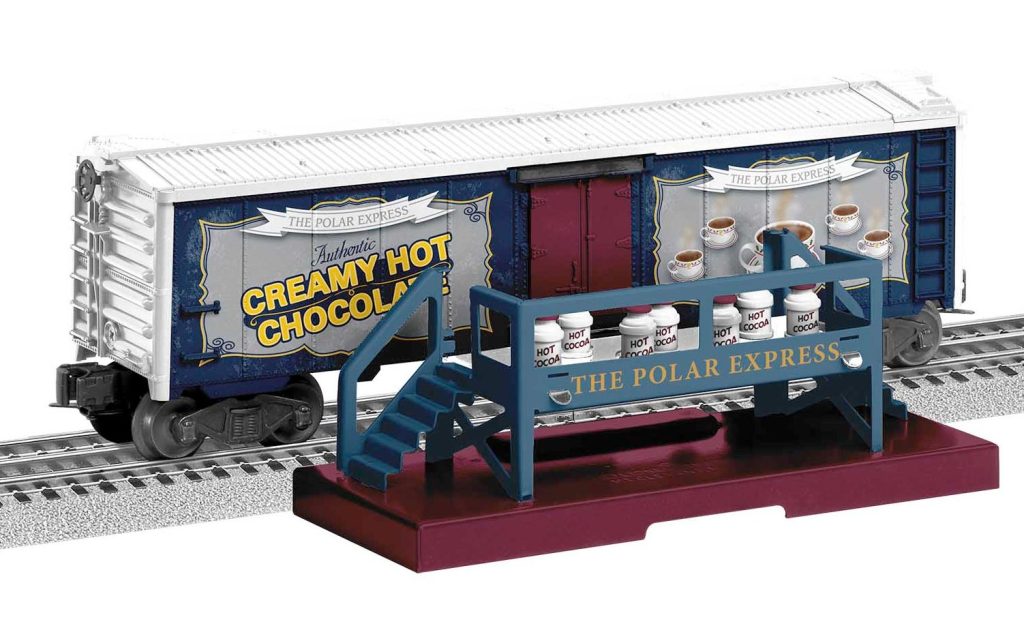 "This is THE POLAR EXPRESS!" Immerse yourself in the iconic world of THE POLAR EXPRESS™. Lionel's line of THE POLAR EXPRESS™ products have been creating magic in the homes of families for years and we are thrilled to continue adding more beautiful and imaginative items to this line. Choose from any of our THE POLAR EXPRESS™ products to either start your collection or add on to your train. THE POLAR EXPRESS™ set, add-on cars and accessories are the perfect way to add a touch of magic around your Christmas tree this holiday season! Do you believe?THE POLAR EXPRESS and all related characters and elements are trademarks of and ©Warner Bros. Entertainment Inc. (S20)

Figure unloads cans onto platform at touch of a button
Includes metal platform and 7 milk cans
Metal milk platform included
FasTrack 10″ Straight Operating Uncoupling Track is required for operation (6-12054 sold separately)
Die-cast metal trucks and operating couplers
PRODUCT SPECIFICATIONS
Gauge: O Gauge
Power: Electric
Min Curve: O31
Dimensions: Length: 11 1/2
2029050 – THE POLAR EXPRESS™ Passenger Station – $119.99
2128240 Polar Express Present Car – $71.99
2128280 Polar Express Boxcar – $67.99
2129070 Polar Express Present Chute – $159.99
2129190 Polar Express Elevated Hot Chocolate Tank – $78.99
2130100 Polar Express Billboard 3-Pack – $19.99
2228300 Polar Express Caboose – $61.99
6-14273  Polar Express People Add On Figures – $24.99
6-24203  Original Figures – $24.99
6-24251 – The Polar Express® Caribou Animal Pack – $26.99
6-24252  The Polar Express™ Wolves and Rabbit Animal Pack – $26.99
6-82735 Polar Express Conductor Gateman – $99.99
6-83231 Polar Express Girder Bridge – $35.99
6-84505 Polar Express Baggage Car – $64.99  SNOW ROOF
6-84600 Polar Express Combination Car – $64.99  SNOW ROOF
6-84601 Polar Express Letter to Santa Car – $64.99
6-84602 Polar Express Disappearing Hobo Car – $69.99
6-84604 Polar Express Diner Car – $64.99  SNOW ROOF
6-85271 Polar Express Flagpole – $49.99
6-85400 Polar Express Skiing Hobo Observation Car – $79.99  SNOW ROOF
6-85410 Plug-Expand-Play The Polar Express Hero Boy's House -$109.99

Interior illumination
Includes pewter Snowman and Hero Boy figures
Plug-Expand-Play accessory connects easily to FasTrack® with a Plug-Expand-Play Lock-on
You can also connect to a traditional tubular O/O27 track lock-on or to an accessory power supply (sold separately)
PRODUCT SPECIFICATIONS
Gauge: O Gauge
Scale Type: Traditional
Power: Electric
Dimensions: 8″ L x 8″ W x 5 3/4″ H
Most Recent Catalog: 2018 C1 Big Book