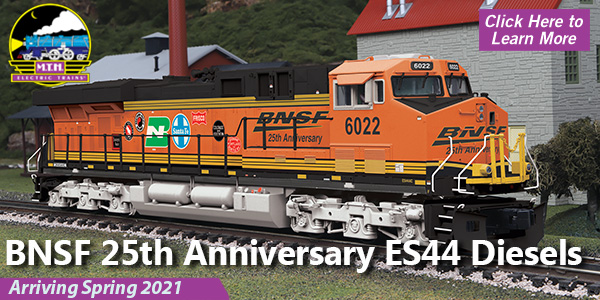 Uncataloged Premier O Scale BNSF 25th Anniversary Diesels Announced
December 29, 2020 – M.T.H. Electric Trains has announced an uncataloged Premier O Scale ES44 Diesel in special BNSF 28th Anniversary livery slated for delivery during the Spring of 2021. There will be two series of cab numbers – three of each – in the production run to celebrate BNSF's 25th Anniversary.
Preorder price for each BNSF 25th Anniversary Diesel is $459.95
Last day to order at this price is January 15, 2021.
Delivery is scheduled April 2021.
Call us @ (440) 774-2131 to reserve yours today!

20-21505-1


20-21506-1

20-21507-1

20-21508-1

20-21509-1

20-21510-1