Uncataloged O Gauge Premier 40′ Reefer Cars Announced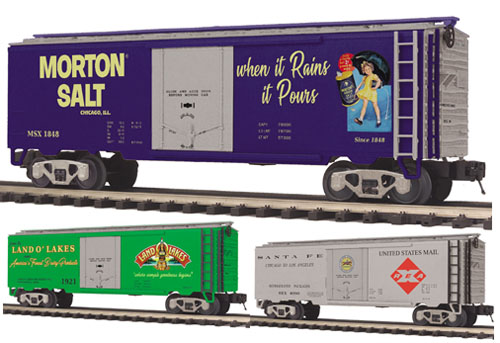 April 19, 2021 – M.T.H. Electric Trains has announced a series of uncataloged Premier O Scale Flat Cars w/PUP Trailers in several liveries for exclusive distribution for M.T.H. Authorized Retailer Stockyard Express. Each car is limited in production and is only available directly from Stockyard Express for just $69.95 (Plus Freight). Delivery is slated for July 2021.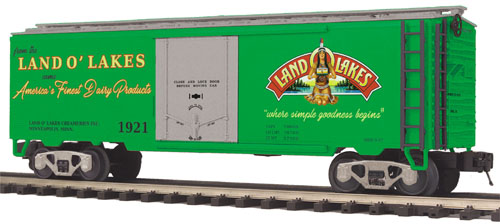 Item No. 20-94463 Land O'Lakes Reefer Car
Car No. 1921 and 1926
MSRP: $69.95

Item No. 20-94464 Santa Fe Reefer Car
Car No. 4090 and 4099
MSRP: $69.95

Item No. 20-94465 Morton Salt Reefer Car
Car No. 1848 and 1910
MSRP: $69.95
ABOUT THE PREMIER 40′ REEFER CAR
The coming of the railroad changed the way America ate and drank. Before the iron horse connected every town of any importance to the outside world, most food was grown or produced locally. The arrival of cheap, fast, refrigerated transport — in the form of the woodsided reefer with ice bunkers at each end — enabled local brewers, dairies, meat processors, and other food businesses to become players on a national scale. Among other things, the reefer enabled Chicago to become "Hog Butcher for the World"; in pre-reefer days, livestock had been transported to local markets and butchered as close as possible to the final consumer.
In the 19th Century, ice for reefers was harvested from frozen ponds each winter and stored as well as possible in insulated icehouses. The advent of mechanical ice-making around 1900 greatly increased the capacity of the reefer fleet, which at its height consumed over one million tons of ice annually. Since loaded cars needed to be re-iced about once per day, icing stations were erected around the country on shipping routes that could be as long as coast-to-coast.
Stockyard Express
49293 Plate Road
Oberlin, OH 44074
(440)774-2131
www.stockyardexpressllc.com
Email: stockyardexpress@aol.com